With GetAssist, the power is in the Network.
To date, GetAssist has over 4,000 businesses taking advantage of our Business Membership.  There are over 600 business categories to choose from serving both B2B and B2C clients.
When 1000's of small businesses come together, they become a powerful collective creating the kind of interactions that everyone can use to Get and Give assistance, making everyday life better.
Below is a feature map of the GetAssist Business Membership Packages.
You can see that we offer a combination of the features that other social networks which serve businesses do, all in one place. But that being said, even if you have every marketing, organizational development and project management tool at your disposal, your advertising budgeted dollars will go wasted if you do not USE the tools.
Advertising is effective when it reaches just the right person at just the right moment, but what about all the other times? Given the expense of advertising, it should never be a small business's only plan of action for marketing. If you consider that each person has a sphere of influence on average of about 250 people, wouldn't it make sense to include network building to foster Word-of-mouth Advertising in your marketing strategy? That is where GetAssist's Community model comes in…
GetAssist is not just about powerfully targeted leads; it is about growing a purposeful network to build trust with your potential customers. In the coming months, we will be writing about how to market effectively on social networks to build your brand and expand your reach to help you get the most of your GetAssist Business Membership. For now, you can begin by creating and participating in Communities that need your specific industry expertise to make the conversation better. Let people get to know you, and start a Word-of-mouth campaign for you.
If you are unable to physically attend networking events (although there is plenty of opportunity to find out about great ones in your area on GetAssist), participating in GetAssist Communities allows you to deliver more than an elevator pitch, your time is in your hands and you can continue the conversation, while expanding your sphere of influence, without having to rush out to pay the babysitter or get ready for an early morning.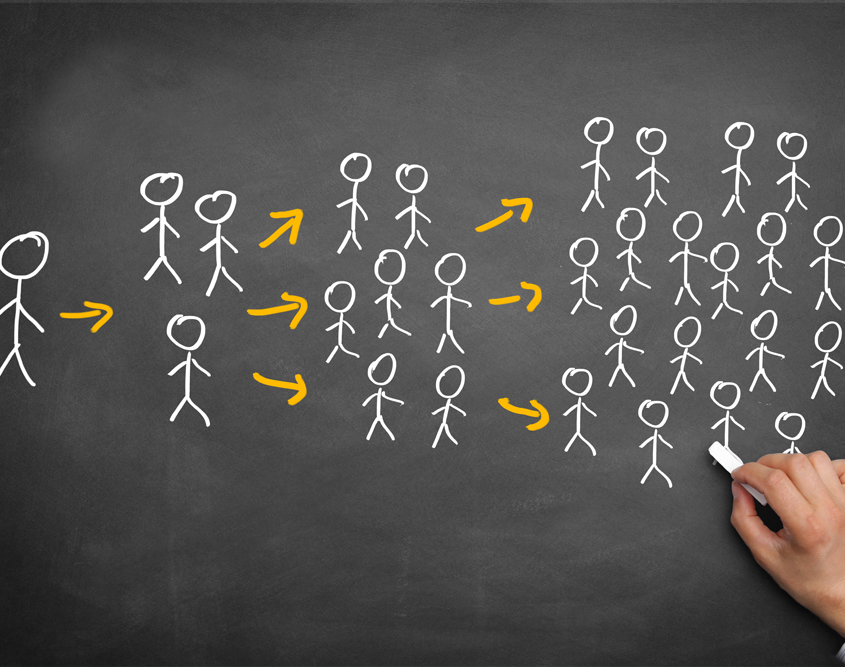 Consider these recent statistics:
84% of consumers say they either completely or somewhat trust recommendations from family, colleagues, and friends about products and services – making these recommendations the highest ranked source for trustworthiness.
91% of B2B buyers are influenced by Word-of-mouth when making their buying decision.
Word-of-mouth has been shown to improve marketing effectiveness by up to 54%. When specific case studies were analyzed, researchers found a 10% increase in word-of-mouth (off and online) translated into a sales lifts between 0.2 – 1.5%.
84% of consumers reported always or sometimes taking action based on personal recommendations.
80% of B2B decision makers prefer to get information from articles rather than advertising.
40% of millennials don't trust ads—they rank Word-of-mouth as the #1 influencer in their purchasing habits.
Word-of-mouth marketing generates more than twice the sales of paid advertising in categories as diverse as skincare and mobile phones.
Nurtured Leads make 47% larger purchases than non-nurtured leads.
Sources: [Nielsen] [USM] [MarketShare/ Keller Fay Group] [The Annuitus Group] [McKinsey]
You have a powerful tool at your fingertips, but when it is not used to its full potential, you may find it not as effective as it could be.
Did you ever hear the story of the woodcutter and his axe?
A very strong woodcutter asked for a job for a timber merchant, and he got it. The pay was really good and so was the work condition. For those reasons, the woodcutter was determined to do his best.
His boss gave him an axe and showed him the area where he supposed to work. The first day, the woodcutter brought 18 trees. "Congratulations," the boss said. "Go on that way!"
Very motivated by the boss words, the woodcutter tried harder the next day, but he could only bring 15 trees. The third day he tried even harder, but he could only bring 10 trees. Day after day he was bringing fewer and fewer trees.
"I must be losing my strength," the woodcutter thought. He went to the boss and apologized, saying that he could not understand what was going on. "When was the last time you sharpened your axe?" the boss asked. "Sharpen? I had no time to sharpen my axe. I have been very busy trying to cut trees…"
Marketing tools are like the axe. If you don't take the time to use them correctly, they will be less and less effective.
Here are some tips to help you start getting the most of your GetAssist Business Membership:
Make sure your business profile is filled out completely
Let people know you are there by posting in targeted communities, both by industry specific topics and by membership of prospective clients
Direct people to your own community or profile
Don't just advertise, be compelling (look for upcoming articles and webinars for help how to do this)
Network, Network, Network – use the network
Offer discounts exclusive to GetAssist members to create a positive and generous image for your brand
Use the GetAssist Network to transition to face to face meetings – look for the many networking events available to attend or invite other business owners who you can collaborate with out for coffee
GetAssist is not meant to be a set-it-and-forget-it tool. It is intended to be utilized to make purposeful connections between real people to make your life and business better by offering opportunities to network and show your expertise, alongside providing leads and business management features – when used all together, you possess the sharpest axe in the forest!
If you have not already signed up for a Business Membership on GetAssist, you can do so HERE.
https://www.staging.getassist.com/wp-content/uploads/2017/01/word-of-mouth.jpg
667
1000
Rebecca LeClaire
https://www.staging.getassist.com/wp-content/uploads/2019/06/galogo-300dpi-300x113.png
Rebecca LeClaire
2017-01-03 20:23:43
2017-01-03 20:23:43
Make the Most of the GetAssist Business Network